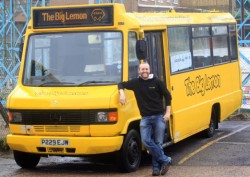 Brighton and Hove Chamber of Commerce who are leading on the local Living Wage Campaign have been very encouraged to receive a new sign up from another Community Interest Company and social enterprise heroes The Big Lemon.
The Big Lemon bus company was founded in 2007 to develop a new kind of bus service. In the world of The Big Lemon, bus travel is fun, friendly, affordable and sustainable. In a nutshell, they have developed a bus service which people enjoy, look forward to, and above all, hopefully choose to use in preference to private motor transport because of its environmental credentials.
Since the launch of the Living Wage Campaign in Brighton the team are delighted that another key brand from the Brighton business scene has signed up.
"We have always paid as much as we can afford because we want to improve workers conditions in the city. The Brighton Living Wage Campaign has done a great job at raising the awareness of pay across the city and highlighting the wage poverty that currently exists. The benefits of paying a living wage are endless and as an employer it feels good and everyone's a winner" said Tom Druit, social entrepreneur and Managing Director of The Big Lemon.
Julia Chanteray, president of the Brighton Chamber said "It's great that The Big Lemon are signed up to the Living Wage Campaign in Brighton and Hove. I think it's really important that we know when we're paying for services that our money is being used in a good way, and that the people who look after us, on the buses, in the shops and in the pub are being paid at a decent level. I look forward to even more of Brighton businesses taking the example set by The Big Lemon and the other businesses who have agreed to pay their staff at least the living wage."
With Brighton and Hove now having 131 local businesses supporting the campaign it is still one of the most proactive cities in the country pushing the message forward, now in its third year of activity.
Latest sign ups include H2Organisation (the first Events company) Cardens Accountants, Futurehealth Brighton, Sackville Medical Centre, Survivors' Network, Brighton and Sussex Care Ltd, Beeley & Co Solicitors, Neo, Fresh Egg, Eco Sparkle and Foodshed.
The Chamber continues to promote the Living Wage Campaign throughout the city and is looking forward to its next sign up.