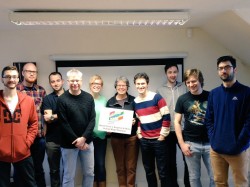 DabApps Managing Director, Chris Palk, tells us why it was important for his growing development agency to sign up to the Living Wage Campaign.
For DabApps, signing up to the Living Wage Campaign in Brighton and Hove not only seemed like something we should do as a small but expanding Brighton company, but is a campaign that we feel all local businesses should support.
As a company – and as individuals – myself and the other directors, Caroline and Jamie, have always wanted our team to feel really valued and paying a fair wage is of course part of that. Since we started out in 2010, we have paid our staff above the Living Wage threshold and we think it's really key to so many areas of the business, from staff retention to our bottom line. Ultimately we want happy, long-standing employees who are proud to work for us and want to help us achieve the best possible outcomes for us and our clients; that's something we feel very strongly about.
The digital sector accounts for a huge percentage of employment opportunities in Brighton and we want to attract the very best people to join our team. Brighton has such a thriving digital community and there are so many options for developers that it's important to be a desirable agency to work for. There are plenty of ways to do this – flexible working hours, a good office environment, opportunities for professional development – but of course rates of pay are important too! Whilst we're very lucky to live and work in this dynamic and diverse city, we recognise that in reality, it is also an expensive city to live in, so wages should reflect and be relative to the cost of living.
We firmly believe that everyone should be paid fairly and recognised for their hard work. At DabApps we're lucky to have a group of really committed people who do a fantastic job and without whom we wouldn't be where we are today. There are massive benefits to being a Living Wage employer both for us and for our employees and I hope that every new business who commits to supporting the campaign will encourage others to do so. At the very least I would like to think that the campaign will prompt companies in the area to consider being a Living Wage employer and the positive implications and impact it has not only for each company but for the city as a whole.
About DabApps
We build and design web and mobile applications. We take a proactive approach, helping our clients achieve their business goals with simple, elegant solutions that are robust, easy to maintain and provide users with a great experience.
DabApps brings together the necessary skills and expertise on a project-by-project basis and seek to form a positive and productive, long-term relationship with all of our clients. We prefer to see ourselves as an extension of our client's internal team, rather than being a separate external agency. This allows us to get to know our client and their market in order to produce the best quality work for them and their audience.
Get in touch:
www.dabapps.com
hello@dabapps.com
01273 208222
@dabapps