We're delighted to announce that there are now over 330 businesses signed up to the Brighton & Hove Living Wage campaign, demonstrating their commitment to ensuring that every resident of our city is paid a living wage that allows them to thrive, not just survive.
This week we spoke to Jo Ivens, CEO of Brighton & Hove Impetus, a local charity dedicated to eradicating isolation and loneliness in the city. Read on to find out more about the fantastic work that Impetus do in the community, why they're committed to paying the living wage, and the many other ways that they look after the happiness and well-being of their staff and volunteers.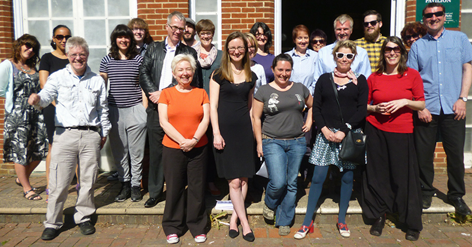 Firstly, tell us a bit more about Impetus
Impetus is a multi-award-winning Brighton & Hove charity supporting people in the city since 1999. We help people who feel lonely or socially isolated because of age, disability or poor mental or physical health.
Loneliness and isolation makes individuals more prone to depression and can be as damaging to health as smoking 15 cigarettes a day. Our team of staff and volunteers support people to make connections in their community to improve health and wellbeing.
We offer a range of community support including befriending, advocacy and social prescribing; supporting 1,000 people city-wide every year with 300 trained volunteers who provide 11,000 hours of support. We also rely strongly on community support and donations.
What's the best thing about being a charity in Brighton & Hove?
Brighton & Hove is a great city known for its tolerance and creativity. There is a supportive and generous spirit of innovation and collaboration here too. The conversations I have around the city in my role with Impetus are often inspiring and that's one of the best things. Being nestled between the gloriously green South Downs and the beautiful blue sea is also a bonus.
It's also important to highlight here some of the less positive things about people's experience of the city. Did you know that Brighton and Hove has one of the highest rates of loneliness in the UK? A fact that can so easily be lost amongst some of the city's blinding vibrancy.
To come back to some of the best things, there are lots of people in Brighton & Hove who are willing to help others – great for a charity like Impetus that depends on volunteers and community support.
Working with Impetus also means that each day I get to be involved in helping make things better for the most vulnerable in Brighton & Hove.
What's the main reason you've committed to paying all your employees the Brighton & Hove Living Wage?
We know that what we do as a charity is only possible because of the skills, commitment and enthusiasm of our staff, as well as that of our volunteers.
We work hard to reward and recognise both, and making a public commitment to the living wage is just one way we try to do this.
What do you do to maintain staff morale and wellbeing?
Recognising and rewarding the experience, expertise and hard work of our staff and volunteers is critical. It's not just about a duty of care it's also about fairness and a shared value of mutual respect – respecting different needs, boundaries and ways of working – which ultimately supports morale and wellbeing.
We hold a weekly lunchtime meditation session which has been brilliant for those who take part. And we have various events and social outings, where we can have time to chat and enjoy ourselves together outside of work. We're off to Planet India in Hove next week.
What do you think that your employees would say is the best thing about working for Impetus?
We support a culture of openness and continued feedback and conduct an annual staff survey, so we know exactly what the best things about working for Impetus are.
We know that our employees and volunteers feel valued, supported and listened to. And they value working for a charity that provides quality services. They are proud to be part of Impetus and of making a difference to people's lives.
And finally, is there anything you want to plug?
We're always on the lookout for more volunteers and our Neighbourhood Care Scheme and Lay Assessors Scheme are currently recruiting. As well as expanding your skills, you'll make new friends and make a real difference to someone's life. Please contact our Volunteer Coordinator, Ellie Moulton at ellie.moulton@bh-impetus.org or see our website: http://www.bh-impetus.org/volunteer/
And we are launching our annual Yellow Rose Campaign on Sunday 30 July, the UN International Day of Friendship (the yellow rose is the symbol of friendship). The campaign aims to raise awareness of the issue of isolation and loneliness in Brighton & Hove and the impact that Impetus' work has in this area. No one should be friendless in our city!
We will have a launch stall at the Pride Community Day in Preston Park on Sunday 30 July. During the day and throughout August we will be handing out yellow roses, discussing the shocking stats on isolation in our city, making friends and encouraging sign ups to our newsletter and social media sharing with the hashtag #icare. More info here: http://www.bh-impetus.org/home/yellowrose/
If you're a Brighton & Hove employer and you're paying the Living Wage, show your commitment by signing up to the campaign.
Signing up to be part of the campaign is FREE, takes less than 60 seconds, and you'll be able to include the Brighton & Hove Living Wage Campaign logo on your website and promotional materials right away. Sign up here.
If you have any questions about joining, call us on 01273 719097 or email campaigns@businessinbrighton.org.uk – we're always happy to talk!