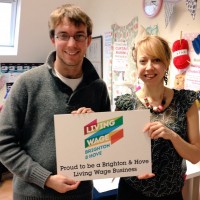 Edward Lowton, a recent graduate of Brighton Journalist Works, interviews Kat Neeser of Sew In Brighton (pictured above with PA James), to find out why she signed up to the Brighton & Hove Living Wage Campaign.
Tell me a bit about you and your business
I used to be a London fashion designer before starting Sew In Brighton sewing school in 2008. We hold 10-15 classes, courses and workshops every week teaching sewing and pattern cutting at all levels – from absolute beginner to experienced stitcher.
We have a team of teachers (including myself) with a variety of skills and expertise on a huge variety of subjects – including learning to use sewing machine from scratch, making clothes, overlocking, home furnishings, pattern cutting, designing, alterations and much more.
What made you decide to join the Brighton & Hove Living Wage Campaign?
I read about it somewhere and was at the time thinking that my PA James was so great and should get a pay rise.
Have you always paid your staff the living wage?
Teachers yes, but I paid my assistant £7.50 an hour until a few months ago. I was only earning £4.50 an hour until the last year, so couldn't afford more. Now I pay £8 an hour.
Do you think that paying a living wage has had a positive impact on staff? Have you received any feedback from them?
James is pleased obviously but nothing other than that. I feel fairer, so I am more relaxed!
What would you say to other businesses thinking of joining the campaign?
If they can afford it they should consider it, as it's difficult to live on a low salary and enjoy life. I'd love to afford to pay even more but sadly that's not possible right now, but this job is fun and interesting and not too exhausting, so I don't feel too bad right now!
Thanks to Edward Lowton for the interview. To contact Edward, email elowton@gmx.com or call 07835452133.
To find out more about the living wage, visit www.livingwagebrighton.co.uk/about or get in touch at campaigns@businessinbrighton.org.uk.