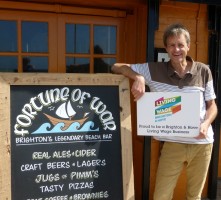 Edward Lowton, a recent graduate of Brighton Journalist Works, interviews Laurence Hill, the Landlord of Fortune of War, to find out why he recently signed up to the Brighton & Hove Living Wage Campaign.
Tell us about the Fortune of War.
Fortune of War is a well known pub on the seafront, the only actual pub on the seafront and in the summer it has an outside beach bar and large terrace. I've been running it for six and a half years now but the pub has been here since 1882, so it's obviously a well established business. We're a very popular destination, not only for locals but also for daytrippers coming down to Brighton – on a sunny day we can be extremely busy.
We serve a wide range of drinks including beers by Dark Star and Laines, both local breweries. There's a revival of well made craft beers currently so we're definitely all aboard with that. It's great that people are starting to recognise that local products are the way forward. It adds to the character of where you live, is creative and offers better opportunities locally.
We also serve simple food – nice pizzas and handmade chocolate brownies. We provide a great place to come and sit on the beach, enjoy a beer and maybe a pizza, relax in the sunshine in a sociable environment with good music, and watch the world go past.
What made you decide to join the Brighton & Hove Living Wage Campaign?
As well as our customers, the other key people in the business are my staff, and we have up to 15 staff in the height of the season. Having good, motivated, flexible staff is absolutely key as flexibility and great service are essential in this location. One way of doing that is paying people more than just the minimum wage.
Does paying the living wage have a positive impact on your staff?
Definitely it does, most of my key staff have been here for between three and five years and generally there's a fairly low turnover of staff. I think paying at least the living wage keeps people a bit more motivated and involved in the business.
What would you say to other businesses thinking of joining the campaign?
My experience is that it does really make a difference in terms of staff loyalty, staff willing to put in a little bit more and being more motivated to be working with you. I think one of the problems in the UK as a whole is that working in the hospitality sector is not often seen as a real career but more as a stopgap job where the pay is really minimal. You can do it for a little while as it can be fun, but you can't make a living out of it.
The more that jobs in this industry are considered to be an actual career option, where you can earn enough money to live on rather than just scraping by, the more this will boost the industry as a whole and will create a more professional standard in catering, food and bartending.
It would be good if the living wage could become the norm right across the hospitality sector, especially in Brighton where it's such a key part of the economy and where many of the people working within it are just scraping by. It's not really a massive increase in costs, more a small step but it's a step that is essential to put the industry on a more professional footing.
Some businesses argue that they would need to make staff redundant if they paid them the living wage. What's your opinion on this?
The cost difference between paying the living wage and the minimum wage is pretty marginal for employers. In my experience over almost seven years, the savings that you get from lower staff turnover and more motivated and experienced staff equal or outweigh any extra cost, and create a happier working environment for both management and staff. Customers pick up on this too, and that's one of those pretty intangible things that makes people want to come again and again to a bar like this.
Thanks to Edward Lowton for the interview. To contact Edward, email elowton@gmx.com or call 07835452133.
To find out more about the living wage, visit www.livingwagebrighton.co.uk/about or get in touch at campaigns@businessinbrighton.org.uk.