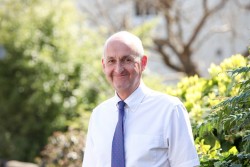 Edward Lowton, a recent graduate of Brighton Journalist Works, interviews Peter Hedgethorne, Director of Plus Accounting, to find out why they signed up to the Brighton & Hove Living Wage Campaign.
Tell us a bit about your firm, when was it established?
It was established in 1992, we're an accountancy firm offering a range of financial services. We provide a modern, forward thinking accountancy and business development service that understands business and gets actively involved. We are looking to work with established and growing owner-managed businesses, entrepreneurs and start up businesses with ambitious growth plans.
Our core services include; a structured approach to business development, accounts and audit, integrated tax planning solutions for businesses and individuals, Xero accounting implementation, training and support and payroll.
We have specialist expertise in a number of sectors including Technology, Media & Innovation, Healthcare, Franchising and Travel & Hospitality.
What made you decide to join the Brighton & Hove Living Wage Campaign?
We heard about the Living Wage Campaign through Brighton Chamber and after looking at it more detail we signed up straight away. We've always paid the living wage although it was never referred to as such specifically.
The living wage is actually the amount that allows a person to live, rather than just survive and we are happy to be part of this campaign.
What are your thoughts on the living wage? Do you think that it has a positive impact on staff?
It's a worthwhile investment. While paying people the minimum might seem like a smart saving, in the long run you get more value out of people if they're feeling content and valued at work.
I don't think the minimum wage is sufficient for people to live properly and have decent lives outside work. If everyone's worried about what's happening at home because they're under financial pressure it's detrimental to their performance at work.
Having content staff improves our quality of service, and in our business it's all about people so that's important.
Thanks to Edward Lowton for the interview. To contact Edward, email elowton@gmx.com or call 07835452133.
To find out more about the living wage, visit www.livingwagebrighton.co.uk/about or get in touch at campaigns@businessinbrighton.org.uk.