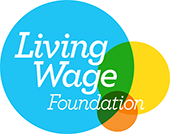 The Living Wage Foundation is the UK-wide Living Wage campaign, launched in 2011 by Citizens UK. Emma Kosmin, the Programme Manager for the South East, will be writing regular blogs to update us on research, news and what's happening nationally. 
It is an incredibly exciting time at the Living Wage Foundation, where we have just announced the 1,500th accredited Living Wage employer!
OVO Energy, one of the UK's fastest growing independent energy suppliers, was the responsible employer named as Living Wage Employer number 1500.
The company, which employs over 850 staff, is currently ranked 25th best medium sized company to work for in the UK by the Sunday Times and became the first ever energy supplier to be awarded Which? 'Recommended provider' status earlier this year.
As part of its unwavering commitment to being a great employer, OVO has joined a growing group of leading businesses acting to end low pay through implementation of the Living Wage to their directly employed staff and their contracted workforce.
OVO Energy join FTSE 100 firm, SSE, as accredited employers in the energy sector. We look forward to seeing many more follow their lead.
The Living Wage accreditation is awarded to responsible employers that commit to put the Living Wage in place.
These employers work with the Living Wage Foundation to do two things:
1) Pay the Living Wage to directly employed staff
2) Put a plan in place for phased implementation of the Living Wage across subcontracts. This means that any subcontracted cleaners, catering staff and security staff are also included in the commitment that the employer makes.
You can find out more about becoming an accredited Living Wage employer with the Living Wage Foundation here.
To find out more about the Living Wage Foundation, visit www.livingwage.org.uk or @LivingWageUK. To find out more about the local campaign for a living wage in Brighton & Hove, visit our website www.livingwagebrighton.co.uk.