Nicole Mowll, a freelance journalist, interviews Alison Holdsworth and Laura Bryson, the founders of Wise Owls Nursery School, to find out why they signed up to the Brighton & Hove Living Wage Campaign. 
 
Alison Holdsworth (top) and Laura Bryson
Alison Holdsworth and Laura Bryson, who both come from a teaching background and have young children of their own, set up Wise Owls Nursery School in September 2015. Their six employees have all been paid above the living wage since the nursery opened.
"We always intended to pay our staff a higher than normal wage for a nursery setting. I don't think people realise how little people get paid in the nursery sector, which we think, being nursery practitioners, is wrong. We decided right from the outset that we would set up our business with that in mind.
"Our staff work really hard. They've got a lot of experience and they deserve to be paid for how hard they work."
They say the pay they offer has helped them to recruit happy, highly qualified staff, which has gone down well with parents.
"They know they're getting quality care for their children. We have found that staff who are paid a decent wage are happier and therefore better able to look after the children.
"I know as a parent I would prefer my son to be going to somewhere that is looking after its staff,  and people are staying, and not being miserable because they're not being paid enough, or getting ill all the time. I think well-cared for staff means well-cared for children."
Some people have been surprised by the rates of pay on offer at Wise Owls.
"We're one of the only nurseries in Brighton that pays the living wage and above. A lot of people didn't believe us when they saw the advert in the paper for what we pay.  They'd never seen that before for a practitioner job.
"I think within the nursery sector we have started to raise the bar a little bit. We want to do that because we feel everybody should be thinking about their staff more. Hopefully it will be seen as a positive thing."
Alison and Laura acknowledge that larger nurseries might find it challenging to start paying the living wage, but say the rewards are worth it.
"A lot of nurseries are big and have a lot of staff and it must be difficult to start again, but I think once you've reassessed the quality of teaching and learning within the nursery setting, it makes sense. The better you pay people the better quality of education you're going to be giving the children."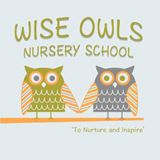 Alice Hollington, who has ten years' experience of working with children, has recently joined Wise Owls as an early years practitioner.
"This is the first job where I've been paid over the national minimum wage and it's made such a difference. I've been a lot more valued as a staff member, which is such a nice feeling. Laura and Alison are fantastic bosses anyway, but obviously it makes a big difference to my life being paid well for once."
Alice says the level of pay she receives has had a positive impact on her job performance.
"I perform better knowing that I am paid a good wage. It gives me more pride. I put more effort into what I'm doing. I'm thinking about it when I'm at home: what else I can do to make my work better. It just makes all the difference. I wish every employer would do it and I think a lot of people would work better."
Thanks to Nicole Mowll for the interview. To contact Nicole, email nicole@mowll.com. 
To get in touch with Wise Owls Nursery School, visit their website or email wiseowlsnurseryschool@gmail.com.
Are you, or could you be, a Living Wage employer? Over 260 businesses have now signed up to the Brighton & Hove Living Wage Campaign, and it would be great if you could join them.
It is free to sign up here – http://www.livingwagebrighton.co.uk/sign-up/. If you have any questions, or would like to chat, please give us a call on 01273 719097 or email campaigns@businessinbrighton.org.uk.