We interviewed Liz Brackley, owner and director of Home Instead Senior Care – Brighton, Hove and Shoreham, to find out why they have signed up to the Brighton & Hove Living Wage Campaign.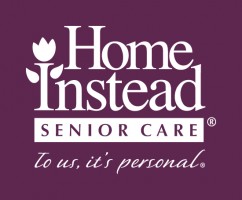 Tell me a bit about Home Instead Senior Care; when was it established, what do you do?
Home Instead Senior Care – Brighton, Hove and Shoreham is part of a national network of 170 other offices across the UK providing quality care at home for older people to enable them to stay happy and independent at home for as long as possible.  Each office is independently owned and managed, with the continual support and standards of Home Instead national office.
Home Instead Senior Care first launched in the UK in 2006 and the office here in Hove opened in late February, one of the most recent Home Instead offices to open.
What sets you apart from other care agencies?
Home Instead is different in a number of ways.
We believe passionately in relationship-based care and we match our CAREGivers to our clients based on shared interests and needs, to ensure a really good relationship is developed, rather than just task-based drop in calls.
Our service allows older people to continue living in their own homes and is tailored to the needs of individual clients.  It ranges from companionship, meal preparation, light housekeeping, post-discharge care, personal care, medication reminders, shopping and errands.
To ensure we deliver quality support, our minimum calls are at least an hour in length, and our CAREGivers do not wear uniforms (it is more about the people than the colours of the company!).  We ensure our CAREGivers are well trained, developed and supported, backed up by a great team at National Office.
How long have you worked in the care sector?
I have only just entered the care sector personally, having bought the franchise for this region last year.   Having experienced both looking after my elderly parents, and looking for care to help them at home, it inspired me to look into delivering care in the way I think it should be – and was delighted to discover that the Home Instead franchise for my local city was available.  I had been most impressed by Home Instead having used them in Bucks for my parents – they really are great people – and I feel excited to be running my own business, but with the backing of the knowledge and support of the national office team – as well as all the other franchise owners who are all aiming for the same level of quality care.
How did you hear about the Brighton & Hove Living Wage Campaign? What made you decide to join?
I read about the campaign in the paper, when the 250th sign up was featured.  I was already aware of the Living Wage Foundation campaign– but hadn't realised that Brighton & Hove had its own campaign.  I had already decided to pay our CAREGivers at least the living wage – so it was any easy decision to support the Brighton Chamber campaign, to reinforce how important the role of caring is.
Did you face any barriers when signing up to the campaign?
Only getting the website to work, with a name as a long as Home Instead Senior Care – Brighton, Hove and Shoreham!
Why do companies in the care sector traditionally pay less than the Living Wage?
Most companies in the care sector are trying to deliver local authority contracts as their main source of customers – and are thus competing for tight funds yet wanting to make money.  They want to maximise their margins, and are in the volume game to do so.  Our model is rather different to that, as we focus on privately funded clients (although they can use their direct funding allowance to pay for our services) and on delivering quality rather than quantity.
Do you think that paying a Living Wage will benefit your business? How?
The sort of CAREGivers we are striving to recruit are motivated and driven by their desire to help others and care for the elderly in the local community. I am keen to recognise the responsible and valuable work they deliver and it is very important to pay an appropriate and sustainable wage.
What needs to happen to make the care sector and its delivery better?
There are a lot of misperceptions of homecare, not just for care providers like ourselves but for the country as a whole. Many people think that being a CAREGiver involves menial tasks over short, rushed visits, and we want to help people to understand that being a CAREGiver involves building relationships and friendships. It's anything but menial work; it's the most meaningful work.
In 2016, it's time to care.
To get in touch with Liz at Home Instead Senior Care, visit the website or call 01273 284090.
Are you, or could you be, a Living Wage employer? Over 260 businesses have now signed up to the Brighton & Hove Living Wage Campaign, and it would be great if you could join them.
It is free to sign up here – http://www.livingwagebrighton.co.uk/sign-up/. If you have any questions, or would like to chat, please give us a call on 01273 719097 or email campaigns@businessinbrighton.org.uk.