We're delighted to announce that 250 businesses, charities, social enterprises and public sector organisations have now signed up to the Brighton & Hove Living Wage Campaign.
"I'm very proud that Brighton Chamber has signed up 250 businesses as Living Wage employers in Brighton & Hove. We hope this will encourage other businesses in the city to join, making Brighton an even better place to do business." Carol Lewis, President of Brighton Chamber.
Raise Bakery is the 250th business to sign up. They are an independently, family run business with a retail shop based in Hove and a bakery in Worthing, specialising in baked goods, sweet treats and desserts. With a team of 9 staff, Raise believes that paying a higher wage ensures maximum efficiency.
Jeremy Jacobs, Managing Director of Raise, said: "We're very pleased to find out Raise Bakery is the 250th company in Brighton and Hove to sign up to the scheme. It's important that the companies that are paying a fair wage are recognised, as it can help encourage other companies to follow suit. Being a born and bred Brightonian myself it's wonderful to see another forward thinking scheme that goes to show how great the city is."
The latest sign ups include cafe Pelican on Portland, Account Management Now, Brighton Plumbers Direct, The Three Chiefs pub kitchen, growth hacking marketing agency Web Smarty, Brighton Catering Supplies, ticket advertising company Ticketmedia and bike courier service Recharge Cargo.
The Brighton & Hove Living Wage Campaign, run by Brighton Chamber, aims to encourage local businesses to voluntarily pay all employees at least the Living Wage rate which is currently £8.25 per hour in the UK (apprentices and interns are exempt). Set independently and updated annually, the Living Wage is calculated according to the basic cost of living in the UK and is the amount required for people to live a decent life, rather than just survive.
Councillor Warren Morgan, Leader of the Council said: "This is a landmark in the Living Wage campaign, one we are committed to working with businesses on. Paying the Living Wage makes sense for business and is good for the city. We all need to support a local economy where people have money to spend and a city where people can afford to live."
To see a list of all of our wonderful Living Wage employers, have a look at our directory. And sign up here to add your name as a Living Wage businesses in Brighton & Hove.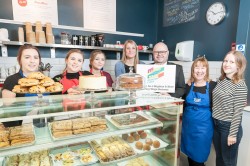 Photo by Lauren Psyk. Click on the image to enlarge.
Councillor Warren Morgan,  President of Brighton Chamber Carol Lewis and Campaigns Manager Grace Evans met with Director Lindsay Jacobs and staff Lucile Blanchard, Jodie Fawcett and Jessica Searle from Raise Bakery, the 250th business to sign up.