Businesses in Brighton continue to champion the Living Wage as we get ready to celebrate Living Wage Week
28th October 2015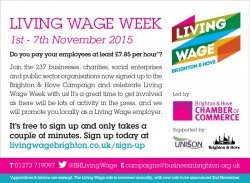 Living Wage Week 2015 is 1 – 7 November. Monday 2 November will see the announcement of the new UK and London Living Wage rates for 2015/2016. The week is an opportunity to celebrate the success of the Living Wage Campaign in Brighton & Hove and shine a light on our Living Wage employers.
237 employers have signed up to the campaign so far and 2,276 salaries have been raised as a result. The business-led campaign has been hugely successful at putting Brighton & Hove on the map as a great example of how the Living Wage can, and should be, the normal minimum level of payment for all employers.
We have carried out a review of the last 12 months, which looked at the targets and success of the campaign and how our Living Wage employers have benefited from signing up.
In a recent survey businesses that have signed up to the campaign were asked about their experiences. Here are some of the interesting findings:
71% of businesses noticed a positive impact on their staff
69% of businesses also noticed a positive impact on their business
They went on to say that staff moral improved (49%), quality of work was higher (17%) and employee retention improved (26%)
44% of businesses use their Living Wage employer status to recruit new members of staff and 29% have used it to win new business
One of the main benefits of signing up to the Living Wage Campaign is growing consumer awareness as an ethical employer, with 59% of businesses saying theirs has increased
Last year 35 businesses signed up to the campaign during Living Wage Week. As well as good press and PR coverage, our Living Wage employers talked about the business benefits and why it is important to get involved.
We would love you to do the same this year! And we've put together a list of suggestions to help you:
Display your 'Proud to be a Living Wage business' sticker (email campaigns@businessinbrighton.org.uk and we'll send you one!)
Encourage another business to sign up www.livingwagebrighton.co.uk/sign-up
Write us a blog about your experience with the Living Wage
Take a photo of you and your team and Tweet us @BHLivingWage #LivingWageWeek #Brighton
Organise a creative photo displaying the new Living Wage rate (to be announced on 2 November)
Arrange a staff lunch or after-work drinks (we'd recommend the Fortune of War or BrewDog Brighton for Living Wage pubs!)
Run a special promotion or offer, that we can also promote (for example 10% off for customers that enter the code 'LivingWageWeek' on your website)
Whatever you do we would love to hear about it! Connect with us on social media: like us on Facebook and follow us on Twitter and let's make some noise about the Living Wage in Brighton and Hove.
Any questions contact Grace Evans at campaigns@businessinbrighton.org.uk or call 01273 719 097.